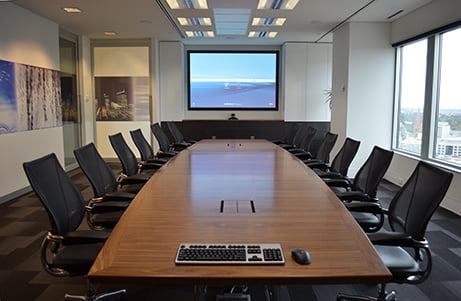 Johnsons is pleased to announce another successful sale of a private, mid-sized Australian business to a synergistic trade buyer. After facilitating a comprehensive, end-to-end sales and negotiations process, our client – DRM Audio Visual – has been acquired by Generation-E Productivity Solutions for an undisclosed amount. Victorian-based DRM Audio Visual is a long-standing, market leading provider of high-end integrated audio visual solutions to the commercial, education, government, non-profit and arts & entertainment sectors. Generation-E is one of Australia's leading unified communications and digital collaboration providers and a Microsoft gold partner.
The team at Johnsons were pleased to act as lead advisors to DRM Audio Visual and would like to extend our congratulations to both the vendor and the purchaser.
Having positioned the 30-year-old Business for continued growth in the modern AV industry, DRM's owner engaged Johnsons in 2016 to assist with a national divestment campaign that would allow him to enter retirement. Following a comprehensive, national marketing campaign – targeting both trade and financial buyers – Johnsons generated more than 27 expressions of interest and secured offer & acceptance within 16 weeks of going to market.
According to Generation-e's CEO, this acquisition will strengthen the company's position as a leader in Microsoft Cloud and unified communications and further extends its managed service offerings. Maintaining DRM's Melbourne facility will also serve to increase Generation-E's geographic footprint.
For over 50 years Johnsons Corporate has specialised in the provision of business sales and acquisition services for mid-sized, private Australian companies. Our clients get results because Johnsons' approach is specifically designed for the mid-market business sector. Custom research and direct marketing capabilities, combined with expertise in sales and negotiations, create a service unavailable elsewhere in the field of traditional business broking and corporate advisory.