How to Sell a Business in the Mid-Market
Finding guidance when you're considering the sale of a mid-sized business is not that straightforward. The vast majority of online articles and tools are targeted at the small business sector – as is also the case for most brokerage firms. Finding expertise that is relevant to larger private businesses is a challenge.
In that context, we hope that the following information will help you get started. Based on our decades of experience working with the owners of mid-size private businesses from a broad range of industry sectors, we've prepared a 10-Step Checklist to selling your business, provided answers to FAQs, and gathered some Other Resources that address mid-market considerations. We're also here to help if/when you're ready for a confidential discussion with one of our directors about the specifics of selling your Business.
10-STEP CHECKLIST TO SELLING A BUSINESS
Wondering how to sell your business? Here's a shortlist of our key recommendations for ensuring you achieve a successful exit. These 10 steps are organised into three sections, covering what to prioritise before, during and after a sales process.
GETTING SALE READY
You've decided to sell and want to lay the foundation for a smooth divestment process and successful result.

Get Clear On Your Objectives – For Yourself and For Your Business.
Whether you're a sole director, a family business, or a team of unrelated partners – the important thing is to be clear about each shareholder's objectives including their financial outcomes, intentions to stay in or leave the business, preferred exit timings, and desires for the future of the business.
Talk To Your Technical Advisors
Your accountants & financial advisors can help you anticipate and structure for the tax implications of a sale. They can also start to prepare a clean or 'normalised' set of historical financial data, which will be necessary once you go to market. Note: you don't need to get a formal business valuation. (These are more appropriate for statutory purposes). A good M&A advisor will offer a value appraisal to help you determine your pricing expectations and evaluate if they are 'reasonable' in the current market.
Do Some House Cleaning
Maximising the value of your Business prior to sale doesn't mean investing in the latest systems, equipment and so on. (In fact it's better to avoid major capital expenditure at this stage). What's more important is presenting a 'smooth-running machine'. One of the biggest impacts you can have is minimising any over-reliance on you the owner as well as on key customers &/or suppliers. In addition, organised record-keeping, documented processes & procedures, up-to-date financial records and the careful management of A/R debt & inventory levels will go a long way to building buyer confidence.
Engage An Experienced Mid-Market M&A Professional
Finding the right and best buyer for a mid-sized business is not straightforward. It demands a proactive approach designed to identify & reach strategic acquirers. Having said that, good M&A advisors aren't necessarily experts in your industry – but they are skilled at creating competitive tension, driving deal terms & price, and managing relationships between multiple stakeholders. They're also invaluable in helping you anticipate and overcome obstacles, while keeping perspective over the course of a deal.
COMPLETING THE DEAL
Your Business is on the market and you want to optimise the pricing, terms and conditions of sale, all the while completing the transaction in a timely manner.

Keep Running Your Business Throughout the Sales Process
One of the benefits to engaging a professional advisor to run your divestment process is minimising disruption to your day-to-day operations. You and your management team can instead focus on 'business as usual', painting a picture of consistent performance that will reassure your buyer about their investment – especially as the deal draws towards a close.
Help Your Prospective Buyer(s) Mitigate Risk
One of the biggest influences on buyers as regards the pricing & terms they offer is their perception of risk in relation to the acquisition. As the vendor, there are various ways you can help reduce perceived risk and improve your outcome. Probably the most critical of these is offering full-disclosure to the qualified party(s) about your Business's history and performance. Unfortunately, hiding or glossing over negative news rarely works and invariably destroys trust when things are later uncovered in due diligence or post-sale.
Stay Open-minded and Flexible in Negotiations
Deals are complex and negotiations always involve some amount of give & take on both sides. For you the vendor, it is helpful to stay focused on what your long-term goals are, so you can keep an open mind about how you achieve them. This increased flexibility during negotiations will improve your chances of finding common ground with the buyer – a mix of pricing, terms and structure that you can both agree on – while getting you the overall result you want.
Use a Specialised M&A Lawyer for the Sales Agreement & Settlement
Having found & selected your best buyer and negotiated a mutually acceptable deal, the next biggest hurdle to completion is the legals phase. We strongly recommend our clients engage specialised M&A solicitors. These are experts in balancing the risk-management requirements of complex financial transactions with the commercial realities of operating businesses. They will help keep the deal on track and speed up the settlement process.
FINALISING YOUR EXIT
You've completed settlement and handed over the keys, but you're not quite on the finish line yet.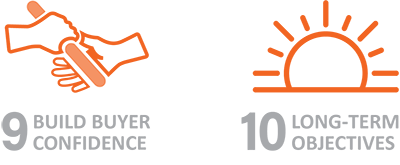 Help Build Buyer Confidence during the Merger
Most vendors of mid-sized businesses end up agreeing to some form of hand-over period to provide their acquirer with certainty about business continuity post-sale. This time is a great opportunity to help your staff ease into a new situation. And if you think the negotiated period errs too far on the side of caution, many acquirers are happy to shorten the term after a few months –once they've become familiar with the business and built some initial confidence.
Stay Focused On Your Long-term Goals
In other cases vendors may also agree to earn-outs &/or a retained stake in the Business. While these periods can be frustrating if your preference was an immediate or short-term exit, focusing on your broader objectives can help. This is also where the goodwill you have built with the acquirer over the course of the sales process pays off. Your earlier responsiveness to information requests, flexibility around terms, and willingness to make (considered) compromises vastly enhance your chances of having a positive post-sale experience.
HOW TO SELL MY BUSINESS FAQs
Here's a shortlist of the most common things we get asked by business owners considering the sale of their business:
WHEN'S THE BEST TIME TO SELL MY BUSINESS?
In short, there is no ideal time to exit or sell a business. All businesses go through life cycles and experience different phases in their own time and order. Each business is unique in its pathway, as is each business owner in the timing & reasons for their exit. Some choose to move on in early-growth to pursue other start-up opportunities, while others sell at high-growth to crystallise some or all of the value they have created. Then there are owners who work to establish a legacy and only leave when they're ready to retire; while others may have their hands forced by external market forces or personal circumstances. The important thing, as an owner considering an exit, is to be clear about your objectives and work to optimise that outcome – no matter 'when' in the life cycle you choose to sell.

As regards 'timing the market' to maximise value, this is a bit of a red-herring (see the next FAQ "How Much is My Business Worth"). Keep in mind, however, that regardless of the broader economic environment &/or industry dynamics, there are always other business owners/leaders out there thinking long and hard about how they can grow their business going forward. They lie awake at night trying to solve the challenges of increasing revenues, improving the bottom line, product/service diversification, geographical expansion, acquiring new capabilities etc. And ultimately it's this – solving someone else's growth challenge – that will drive the valuation of your business.
HOW MUCH IS MY BUSINESS WORTH?
There is no formulated market for the sale of businesses as there are for other types of assets such as shares, real estate, currencies etc. Different buyers will value the same business differently. Even if they all agree on an underlying 'valuation', they may still offer very different prices for the same thing. What they're actually willing to pay depends on the benefits they expect to gain and how much those are worth to them. That is not to say you should enter a sales process without some idea of your likely outcome. An experienced M&A advisor will be able to provide you with a high-level business appraisal offering a sense of what you could reasonably expect in terms of pricing in the current market.
HOW CAN I MAKE SURE I GET MAXIMUM VALUE?
When selling a business, you need to "create the market". The approach taken when interacting with interested parties can have a significant impact on the outcome and value you receive. By ensuring the sales process is strategic in terms of targets, robust in terms of its method, and timely to ensure competitive tension is achieved, you will increase the likelihood of achieving the desired outcome and maximising the sale price.

The flip-side to this coin – managing anything that may negatively impact pricing & terms or even block a sale – is to minimise any factors that a prospective buyer may perceive as a risk. Examples include: inconsistent financial performance; over reliance on key staff, customers &/or suppliers; poor record keeping; active litigation. An experienced M&A advisor can help you identify potential risk factors and plan for their management during the sales process.
HOW WILL I FIND THE RIGHT BUYER?
For mid-sized businesses, the 'right' buyers are typically strategic or trade acquirers – i.e. other businesses or even financial buyers who operate in the same or a closely related sector. These parties will look at your business and its value in terms of quantifiable returns to their own business. They're also most likely to have the motivation, scale and capital to complete a deal. To find and reach these buyers, best practice for mid-market sales includes comprehensive research and a carefully targeted marketing campaign.
DO OVERSEAS BUYERS PAY MORE?
When a sale is made to an international buyer, the purchase price tends to be considerably higher than what could be secured from a local buyer. The primary reason for this is that international buyers tend to acquire for macro strategic reasons and, hence, their perception of value is often greater. In order to successfully complete a cross-border deal, however, your advisor will need to go beyond identifying prospective targets. Successful completion will probably require access to professional on-the-ground resources to deal with local legal issues, especially where a foreign language is involved.
HOW DO I KNOW IF AN OFFER IS ANY GOOD?
It is not uncommon for owners of private enterprises to receive unsolicited offers for their business. If you have, then you'll know how difficult it is to assess whether the proposal is good, bad or indifferent. In isolation and without anything to compare it to, you just don't have anything against which to benchmark an offer. And the same will hold true when you formally put your Business up for sale, if your search for a buyer is too narrow. The key is to approach and get feedback from a broad pool of potential acquirers so as to have a real-market context for evaluating offers & terms.
WHAT IS "DEAL STRUCTURE" AND WHAT IMPACT DOES IT HAVE?
Agreeing to a purchase price is only the first step in negotiating a deal. Vendors must also find common ground with buyers as regards deal structure and terms. Whilst many vendors, in the first instance, will be contemplating or looking for a simple transaction (e.g. 100% of the sale price paid at settlement), there are often dynamics at play within a business or its broader industry sector that present associated risks to a new owner. When buyers are reluctant to simply absorb these risks as part of a transaction, deal structuring may be deployed to mitigate or "share" them between the acquirer and the seller.

In essence deal structuring involves breaking up the payout of the agreed sale price into two or more components – comprising an upfront portion paid at settlement and the balance paid in one or more agreed stages over time. Examples include: deferring payment of part of the sale price until completion of an agreed handover period; having part of the sale price contingent on the achievement of certain financial benchmarks at some point(s) in the future; or having the vendor retain some amount of equity in the Business over an agreed timeframe or until some benchmark(s) is achieved. Deal structuring is also frequently used to address non-financial elements of a transaction, with payouts contingent on factors such as the retention of key customers or management. Ultimately the aim is to bridge any gaps between the buyer's and seller's ideal outcomes and achieve a balanced result for all of the stakeholders.
WHAT'S THE DIFFERENCE BETWEEN AN ASSET SALE & A SHARE SALE?
The terms 'asset sale' and 'share sale' refer to the most common types of sale transactions, i.e. the financial process by which a business changes hands. Basically in a share sale, the buyer purchases the entire business as a going concern via its balance sheet (including all assets & liabilities). In contrast, as the wording 'asset sale' implies, in this transaction type the buyer purchases only the seller's business assets – taking them out of the vendor company and placing them into a new company. In an asset sale the seller retains ownership of the original business entity as well as its liabilities.

When it comes to deciding which type of transaction is most appropriate: generally speaking vendors prefer share sales due to tax advantages, while buyers prefer asset sales because they mitigate the future risk of liabilities. That means each deal is unique, and the transaction type is determined via negotiation around a unique mix of respective considerations. In addition, there are some business models &/or characteristics that inherently necessitate one transaction type over the other. For example, where operational contracts need to be transferred between vendor and buyer, a share sale is usually mandated. (Note: before going to market, you should speak with your financial advisor about the pros & cons and tax implications of each type of transaction).
'DD' is where a prospective buyer looks in detail at a vendor company's operations, finances, contracts, assets and liabilities in order to determine whether it's a commercially viable business and a worthwhile acquisition. The process is used to identify any risk associated with the purchase – whether legal, regulatory, financial or commercial. Its findings typically influence deal structure and terms and may affect the final sale price. In some cases DD is carried out by the buyer directly, although it is more common for them to engage a specialised third-party to complete the process on their behalf.
HOW LONG DOES IT TAKE TO SELL A BUSINESS?
We typically advise clients that it will take 7 to 9 months to complete a sale. This includes a period of preparation (during which research is conducted, an information memorandum prepared, and financial statements normalised), a period of marketing & negotiations (during which interested parties are solicited and vetted with a view to securing a formal purchase offer), a period of due diligence (in which the selected buyer looks in detail at the vendor's operations, finances, contracts, assets and liabilities etc), and finally a period of legal contracting and settlement (during which the transaction is completed and handover occurs).
HOW MUCH DOES IT COST TO USE A BROKER OR ADVISOR?
When it comes to engaging a professional to assist with the sale of a business, pricing can vary significantly depending on the type of advisor and the scope of their services. Typically there are three major cost components that apply: a fixed fee for the preparation of target research & sales materials and the execution of a marketing campaign; a success fee (generally a percentage of the sale value) upon settlement of the transaction; and some advisors will also charge a monthly retainer during the course of some or all of the sales process.The variability in the mix and pricing of those components is due to multiple factors, especially the extent to which a sale campaign is tailored to a particular business. For instance custom research is more costly than the use of pre-existing lists or classified listings (e.g. Seek Business). For sales materials like an Information Memorandum, pricing will vary with the depth of research & analysis and the sophistication of the design & messaging. During the marketing and negotiations phases, pricing will increase the more your advisor is hands-on and proactive and the more senior the deal leader; and international campaigns will incur greater costs.
Generally speaking the pricing spectrum goes from business brokers (whose services target SMEs and are most generic) to corporate advisors and the Big 5 Accounting firms (whose offerings target large enterprises and are the most tailored). Boutique M&A/brokerage firms that specialise in a particular sector and technical advisors like accountants usually fall somewhere in the middle. The most important thing is to find an experienced advisor whose approach and processes best suit your business. One who will be able to identify and reach the pool of potential buyers that will deliver optimum value – a very different kettle of fish for small, medium and large enterprises.
(Download our eBook about "Optimising Your Outcome" or speak with one of our directors to better understand which sales strategy is best-suited for your business).
HOW DO I KEEP THE WHOLE PROCESS CONFIDENTIAL?
Maintaining confidentiality as regards customers, competitors, and employees is an important part of the sales process. The most important this is to carefully manage the flow of information between parties. Confidentiality can never be guaranteed, however you can vastly reduce your risk of the sale becoming common knowledge in the marketplace by following a few simple steps.

First it's important to market the opportunity anonymously and screen all enquiries upfront. Then if for the ones that appear genuine, make sure the prospective purchasers sign a Confidentiality Agreement before releasing any information that identifies your Business. Third, once confidentiality agreements are executed, information should be released slowly as you build trust and a relationship with the potential acquirer(s). And only release information that will not threaten the competitive position of your Business (e.g. keep your customer and supplier identities to yourself). Finally, reserve the most detailed information for the due diligence process (commenced only after signed formal Offer & Acceptance has been completed).
SHOULD I INVOLVE KEY MANAGEMENT IN THE PROCESS?
Of course it depends, but generally – yes. Once you've spoken with your advisors and have decided to sell, get your key manager(s) on board. In many cases you'll need their assistance during the sale process as buyers often want to talk with key staff. Buyers will also want to know that your key managers aren't going to walk out the door when you leave. However, you may consider using Confidentiality Agreements to ensure your discussions remain confidential.
ARE THERE ANY HIDDEN TRAPS THAT I SHOULD BE AWARE OF?
In order to avoid the most common pitfalls and maximise your chances of completing a deal that delivers the best possible outcome: Don't Rely on Guessing Who the Buyer Will Be, Never Negotiate with A Single Buyer, Don't Hide or Omit Information from the Buyer, Avoid Making Major Changes Right Before or During a Sales Process, Present Clear & Consistent Record-Keeping, and Get Appropriate Advice from Legal & Financial Professionals Prior To Selling.
OTHER RESOURCES TO HELP SELL YOUR BUSINESS
Still looking for more information about exiting and selling businesses? Here's some third-party resources we've come across that you might find helpful.
See also our BLOG ARTICLES on a range of subjects related to mid-market business sales and acquisitions or download one of EBOOKS below.